Safety and health
WHY SAFETY AND HEALTH ARE MATERIAL TO HARMONY
At Harmony the safety and health of our employees and contractors is not only a moral imperative but essential for creating a sustainable, responsible business. Safety is our key priority and one of our five values. Without a safe and healthy workforce we cannot be productive and profitable. We aim to eliminate and prevent all fatalities and work-related injuries and illnesses by promoting a culture that gives priority to health and safety.
---

---
Our approach
Both our occupational health and safety policy and health and safety management framework are aligned with the Mine Health and Safety Act (MHSA) in South Africa and the mine health and safety legislation in Papua New Guinea. Representatives from all levels of management, union and government are encouraged to actively participate in the health and safety framework.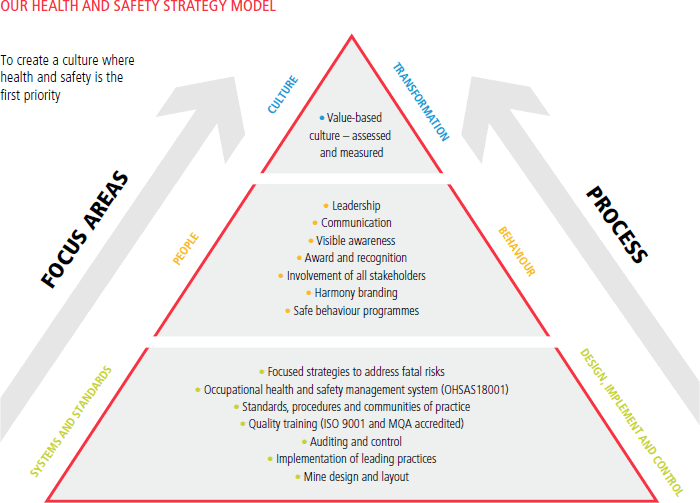 Health and safety committees are in place at all operations, to ensure the active participation of all employees in safety management. Safety and health are agenda items at all union and management engagements. There are currently 42 full-time health and safety stewards at our South African operations (FY13: 48). (The FY13 figure has been restated as one operation mistakenly reported both full time stewards and their alternates). Two operations did cut back on one steward each during the year but still have enough full-time stewards to deal appropriately with their health and safety needs. The technical committee and board are responsible for monitoring the safety and health strategy.